AOL INSTANT MESSENGER
(tested version : 4.3 for Mac)
AOL Instant Messenger is an instant messager ( such as ICQ ). It includes mail services, instant message sendin &, chat window.
Each action is sonified.
the main window
(click to expand)

the chat window
(click to expand)

the mail status

the instant message window
(click to expand)
Sonification is customizable. The changes can be made in the preference window :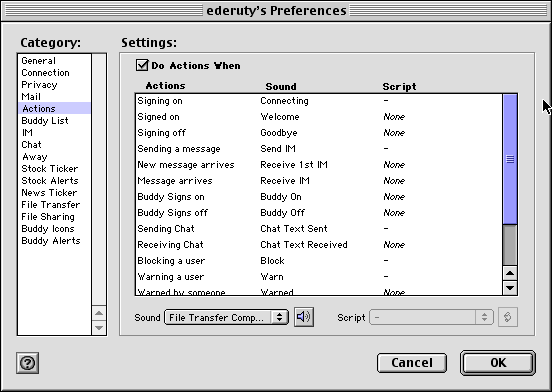 Here is the default sonification scheme :
Action
Sound name

Sound

(lauching / quitting soft.)

Signing on
Connecting
Signed on
Welcome
Signing off
Goodbye
(Message stuff)
Sending a message
Send IM
New mail arrives
Receive 1st IM

Message arrives
Receive IM
(Main window)
Buddy signs on
Buddy on
Buddy signs off
Buddy off

Blocking a user
Block
Warning a user
Warn
Warned by someone
Warned
(Chat stuff)
Requesting chat
Chat text send
Receiving chat request
Chat text received
(File transfer stuff)
Proposing file transfer
File transferred proposed
File transfer complete
File transfer complete
(Talk stuff)
Talk proposed
Talk proposed
Audio files are not contained in any archive, but simply put in a sub folder of the application folder :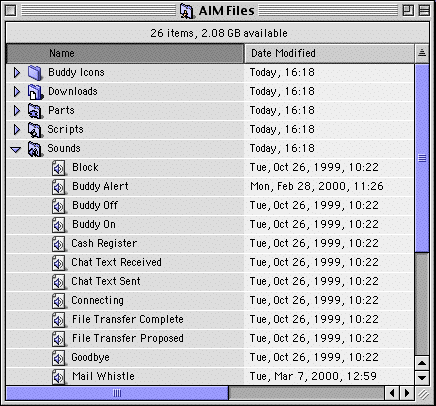 It is thus easy to associate any sample with any action.
Custom AIM sounds can be found over the internet - see the link page for where to find them.
Here are two sonification schemes proposed by a user called David Texeira (arada392@mac.com)
Action

Scheme 1
(plain)

Scheme 2
(game inspired - Nintendo Yoshi's Island for SNES)

(lauching / quitting soft.)

Signing on
Signed on
Signing off
(Message stuff)
Sending a message
New mail arrives

Message arrives
(Main window)
Buddy signs on
Buddy signs off

Blocking a user
Warning a user
Warned by someone
(Chat stuff)
Requesting chat
Receiving chat request
(File transfer stuff)
Proposing file transfer
File transfer complete
(Talk stuff)
Talk proposed