MidiShare 1.80 Setup
---
Setting preferences
Use the MidiShare Control Panel to set the MidiShare preferences.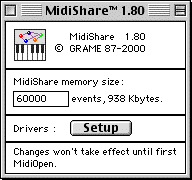 MidiShare has its own real-time memory manager in which all MidiShare data (including all MIDI data) are represented as events. MidiShare allocates the memory to store these events.

Adjust the MidiShare memory size according to the number of events you need. Close all the MidiShare client applications to put the changes in effect.

Click the Setup button to configure the MidiShare ports connections. In fact, setup opens the 'msDrivers' application.
Warning :
Any previously installed MidiShare version should be removed from your Control Panel folder. You can do it manually or using the system Extensions Manager.
To get more information about MidiShare please go to the MidiShare Web pages.
---
Grame - Computer Music Research Lab.
9, rue du Garet, BP 1185, 69202 LYON Cedex 01, FRANCE