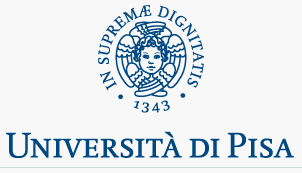 Programma del corso di
"Elementi di Geometria Superiore 2: Matematica & Musica"
(In collaborazione con Carlos Agon e Emmanuel Amiot)
Rappresentazione e formalizzazione delle strutture musicali

Rappresentazioni geometriche e formalizzazioni algebriche [Gol00], [Mazzo02], [Hook06], [Tymo06], [Chemi07]

Il Tonnetz di Eulero
Rappresentazioni circolari e toroidali
Teoria degli orbifolds
Cenni dell'approccio categoriale

Strumenti informatici e rappresentazioni simboliche [Assa04], [Agon04]

Teoria della calcolabilità
Teoria della complessità
Calcolo informatico
Lambda-calcolo
Programmazione logica e calcolo concorrente
Analisi musicale assistita su calcolatore

Enumerazione e classificazione delle strutture musicali

Lemma di Burnside e teoria dell'enumerazione di Polya [Ben06], [Jedr07], [Gilb07], [Oger08]

Classificazione paradigmatica degli accordi musicali (azioni del gruppo ciclico, diedrale e affine sul sistema temperato tradizionale)
Modi di Messiaen a trasposizione limitata
Serie dodecafoniche e serie omni-intervallari
Asimmetria ritmica
Spazi microtonali

La Set Theory d'Allen Forte [And03], [Jedr07]

Il vettore intervallare
Teorema dell'esacordo (Milton Babbitt)
La relazione Z e gli insiemi omometrici

Teorie trasformazionali, diatoniche e neo-riemanniane

Il sistema d'intervalli generalizzati (GIS) di David Lewin [Amiot07], [Jedr07]

La funzione intervallare e la trasformata di Fourier discreta
Teorema generale dell'esacordo

Reticoli di Klumpenhouwer (K-nets) [Jedr07],

Isografie forti
Isografie positive
Isografie negative

Teorie diatoniche [Amiot07], [Jun08], [Douth08]

Unicità della scala diatonica
Insiemi ripartiti in maniera massimale (Maximally Even Sets)
Scale ben formate (Well-formed scales)
Diatonismo vs cromatismo

Teorie neo-riemanniane [Fiore05], [Hook06], [Crans08], [Noll08], [Albi08]

Dualità trasposizione / inversione
Cenni di grammatiche formali (Christoffel words)

Tessellazioni musicali: la costruzione dei canoni ritmici a mosaico [Amiot04], [Fid08], [Gilb07]

Fattorizzazione di gruppi ciclici

Gruppi di Hajos e gruppi non-Hajos
Teorema di Hajos
Teorema di Redei

Fattorizzazioni polinomiali (polinomi ciclotomici)

Condizioni di Coven-Meyerowitz

Congetture geometrico-algebriche

Congettura di Minkowski
Congettura di Keller
Congettura di Fuglede (congettura spettrale)

Sequenze periodiche e calcolo delle differenze finite a valori in gruppi ciclici [And04], [Chemi04]

Sequenze riducibili, riproducibili e teorema di fattorizzazione
Applicazione alle grammatiche formali e alla teoria dell'imparità ritmica

Ramificazioni filosofiche e cognitive dell'approccio algebrico in musica [And06]

L'eredità del positivismo logico del circolo di Vienna nella tradizione americana
Strutturalismo matematico e strutturalismo musicale
Bibliografia di base:
[Agon04] C. Agon, M. Andreatta, G. Assayag et S. Schaub, "Formal aspects of Iannis Xenakis' Symbolic Music: a computer-aided exploration of some compositional processes", Journal of New Music Research, Juin 2004, vol. 33, n° 2, p. 145-159.
[Albi08] G. Albini, Modelli matematici per l'analisi e la composizione musicale: uno studio sul Tonnetz e sulle teorie neo-riemanniane, tesi di laurea specialistica, Università degli studi di Pavia, Facoltà di Scienze MM. FF. NN. (pdf)
[Amiot04] E. Amiot, "Why Rhythmic Canons are Interesting", in E. Lluis-Puebla, G. Mazzola et T. Noll (eds), Perspectives in Mathematical and Computational Music Theory, EpOs, 190-209, Universität Osnabrück, 2004 (html)
[Amiot07] E. Amiot, "David Lewin and Maximally Even Sets", JMM 1 (3), 2007, 157-172 (pdf)
[And04] M. Andreatta, D.T. Vuza e C. Agon, "On some theoretical and computational aspects of Anatol Vieru's periodic sequences", Soft Computing, 8, 2004, 588-596
[And06] M. Andreatta, "Mathématiques, musique et philosophie dans la tradition américaine : la filiation Babbitt/Lewin", intervento al Seminario "Mathématiques/Musique et Philosophie", ENS, 18 novembre 2006. Présentation PowerPoint, handout, registrazione audio e vidéo disponibili online all'indirizzo: http://recherche.ircam.fr/equipes/repmus/moreno/
[Assa04] G. Assayag, V. Cafagna, M. Chemillier, Soft Computing - A Fusion of Foundations, Methodologies and Applications, 8(9), September
[Chemi04] M. Chemillier, "Periodic musical sequences and Lyndon words", in G. Assayag, V. Cafagna, M. Chemillier (eds.), Formal Systems and Music, special issue of Soft Computing, 8(9), pp. 611-616 (Draft version in pdf)
[Chemi07] M. Chemillier, "Représentations musicales et représentations mathématiques", in Musique et schème: entre percept et concept, B. RamautChevassus (ed.), Presses Universitaires de SaintEtienne.
[Crans08] A. S. Crans, Th. M. Fiore, and R. Satyendra, " Musical Actions of Dihedral Groups " (June13, 2008). Preprint
[Fid08] G. Fidanza, Canoni ritmici a mosaico, tesi di laurea, Università degli Studi di Pisa, Facoltà di SSMMFFNN, Corso di laurea in Matematica, 2008 (pdf)
[Fiore05] Th. M. Fiore e R. Satyendra, "Generalized Contextual Groups" , Music Theory Online, 11(3), settembre 2005 (pdf)
[Gilb07] E. Gilbert, Polynômes cyclotomiques, canons mosaïques et rythmes k-asymétriques, mémoire de Master ATIAM, maggio 2007 (pdf)
[Gol00] E. Gollin, Representations of Space and Conception of Distance in Transformational Music Theory, PhD, Harvard University
[Hook06] J. Hook, "Exploring Musical Space", Science 313, 49-50, 2006 (pdf)
[Jun08] J. Junod, Etude combinatoire et informatique du caractère diatonique des échelles à sept notes, Mémoire de Master ATIAM, Ircam/Université Paris 6, juin 2008 (pdf). Atlas interattivo dei modi disponibile all'indirizzo: http://www.cloche-diatonique.ch/
[Noll08] Th. Noll, "Le Pli Diatonique - Algebraic Combinatorics on Words applied to the Study of the Diatonic Modes", Intervento al Seminario Mathématiques/Musique et Philosophie, ENS, 12 gennaio 2008 (html)
[Oger08] B. Oger, Les transpositions musicales et autres transformations de la gamme, TIPE, Année scolaire 2007/2008 (pdf)
[Tymo06] D. Tymoczko, "The Geometry of Musical Chords", Science 313, 72-74, 2006 (pdf)
[Vuza01] D.T. Vuza e M. Andreatta, "On some properties of periodic sequences in Anatol Vieru's modal theory", Tatra Mountains Math Publications, vol. 23, 2001, 1-15 (ps)
Textbooks:
[And03] M. Andreatta, Méthodes algébriques en musique et musicologie du XXe siècle. Aspects théoriques, analytiques et compositionnels, PhD, EHESS, 2003 (pdf)
[Ben06] Dave Benson, Music: A Mathematical offering, Cambridge University Press, 2006 (pdf)
[Mazzo02] G. Mazzola, Topos of Music. Geometric Logic of Concepts, Theory, and Performance, Birkhäuser, 2002.
[Jedr06] F. Jedrzejewski, Mathematical Theory of Music, Collection "Musique/Sciences", Ircam/Delatour France, 2006
[Douth08] J. Douthett, Martha M. Hyde, C. J. Smith, Music Theory and Mathematics. Chords, Collections, and Transformations, University of Rochester Press.
Brani musicali analizzati durante il corso:
Arnold Schoenberg: Klavierstück Op. 19 n° 4 (1911)
Alexander Scriabin: Etude Op. 65 No. 3 (1911-1912)
Milton Babbitt: Three composition for piano (1947-1948)
Olivier Messiaen: Mode de valeurs et d'intensités (1949)
Pierre Boulez: Structures pour deux piano Ia (1951-1952)
Karlheinz Stockhausen: Klavierstück III (1952)
Milton Babbitt: Semi-Simple Variations (1956)
Iannis Xenakis: Herma (1961)
Iannis Xenakis: Nomos Alpha (1966)
Elliott Carter: A 90+ (1994)
Supporto del corso:
Contatto:
Prof. Fabrizio Broglia
Dipartimento di Matematica "L. Tonelli"
Largo Bruno Pontecorvo, 5
56127 Pisa
broglia[at]dm.unipi.it
http://unimap.unipi.it/cercapersone/dettaglio.php?ri=396
---
Moreno Andreatta
Equipe Représentations Musicales
IRCAM-CNRS
1, place I. Stravinsky
F-75004 Paris
email: Moreno.Andreatta@ircam.fr
http://recherche.ircam.fr/equipes/repmus/moreno/

[Aggiornamento: Febbraio 2009]